When it comes to global impact and generous salaries, Facebook is hard to beat. With billions of users across a family of apps and hardware that includes Instagram, WhatsApp, Messenger, and Oculus, Facebook is a data-collecting and data-generating juggernaut that gives its data scientists opportunities to solve significant business problems, perform analytics at vast scales, and specialize in areas of data science that interests them.
Whether it's using quantitative tools to measure how Facebook's products are being used or applying machine learning algorithms to help small businesses target their ads on the Facebook platform, the company's data scientists have no shortage of compelling and complex challenges to keep them busy.
Read on to learn more about the Facebook data scientist hiring process—and don't forget to check out the guides below!
Facebook Data Scientist Interview: A Complete Guide
Facebook Data Scientist Internship: A Complete Guide
How Much Does a Data Scientist at Facebook Earn?
Day-in-the-Life of a Data Scientist at Facebook
What's the work culture like at Facebook?
Whether you're a data science intern or a seasoned machine learning professional, Facebook prides itself on giving every data scientist the opportunity to have a direct and meaningful impact on the business. The company values data scientists with creativity, curiosity, and initiative, according to former and current employees, and expectations are high for all its hires.
"They're very data-driven," Jaime Torres, a Springboard alumnus and current data scientist at Facebook said of the company. "[You get to work with] a lot of smart people, very personable people. Everyone's just driven to get their work done. You can see that people are very excited about what they do."
And, contrary to its early reputation of being a workplace that demanded long hours and offered poor work-life balance, Torres told Springboard that, these days, the company and its employees have a healthy attitude toward work, with Torres himself typically starting his workday at 8am and finishing at 4.30pm. Instead of relentless sprints, a typical week for him consists of planning meetings with stakeholders and time spent finding, cleaning, and analyzing data.
Check out this page to learn more about the day-to-day of a data scientist at Facebook.
What are the work benefits like at Facebook?
In addition to generous compensation packages, flexibility, and (in non-pandemic times) campuses around the world that boast complimentary cafes and restaurants, laundry services, salons, and organized recreational activities, Facebook employees receive a slew of other benefits.
Complete coverage health insurance
21 days paid time off each year, with 30 days off to recharge once every five years
Unlimited sick leave
Four months of parental leave
Childcare reimbursement
Egg freezing and other fertility services
Gym and wellness reimbursement
Complimentary meals and snacks
Remote work opportunities
Get To Know Other Data Science Students
Nick Lenczewski
Data Scientist at Ovative Group
Aaron Pujanandez
Dir. Of Data Science And Analytics at Deep Labs
Abby Morgan
Data Scientist at NPD Group
How much does a data scientist make at Facebook?
The base salary ranges for the average Facebook data scientist depend on years of experience, education, and location, and the median total compensation can greatly vary depending on whether someone qualifies for annual bonuses or stock grants.
At the most entry-level of the range, Facebook's data science interns make $8,000 a month, in addition to benefits such as return airfare, a housing stipend for the duration of their internship, complimentary meals, and shuttle services.
Data scientists who hold an undergraduate degree in a relevant field such as computer science, statistics, or mathematics, and have a few years of experience under their belt can earn around $153,046, in addition to cash bonuses and stock grants.
Senior data scientists who also hold master's degrees or a Ph.D. in a related field, such as machine learning, can make around $166,742, with additional cash bonuses and stock grants that can bring the total compensation in excess of $200,000.
Check out this page for more information about salary and benefits for data scientists at Facebook.
What's the data scientist interview process like at Facebook?
Like many other major tech companies, Facebook's interview process for data scientists typically includes phone interviews with recruiters where they ask high-level questions about an applicant's background, interest in the company, work experience, and how their goals align with Facebook's mission.
Qualified individuals who make it through to the onsite interviews—typically held at Facebook campuses in Menlo Park, New York City, or Seattle—then participate in an initial technical screen, and are presented with questions and problems to solve so that hiring managers can ascertain their product sense and analytical skills.
"At the end of the day, you're being judged on your approach to solving problems, your ability to articulate and confidently prescribe your solution, and justify your reasoning," said Jaime Torres, a Facebook data scientist.
When Torres interviewed with Facebook, he noted that the recruiting team looked for three things:
Whether the applicant was a culture fit
Whether the applicant had the breadth of experience to work independently; and
Whether the applicant brought something new and valuable to the team
Check out this page to learn more about the interview process for data scientists at Facebook.
What's the internship process for data scientists at Facebook?
Facebook offers multiple internship tracks for different demographics, such as Facebook University—an eight-week paid summer internship for qualified individuals from underrepresented backgrounds; a University Grad track for recent college graduates; and a traditional twelve-week summer internship.
Facebook interns are not all expected to be coding whizzes right off the bat, but familiarity with programming languages such as SQL and Python is expected, and those technical skills are further developed over the course of the internship.
In addition to picking up new skills, data science interns are assigned projects that allow them to contribute to Facebook's teams and products in meaningful ways—former interns have built dashboards that track key business metrics, performed analysis on large data sets to identify actionable insights, and worked on projects affecting application speed, device capabilities, and navigational patterns. Facebook's rainbow pride filter—launched after the U.S. Supreme Court legalized gay marriage in 2015 and used by millions of people—was built by two interns.
Check out this page to learn more about the internship process for data scientists at Facebook.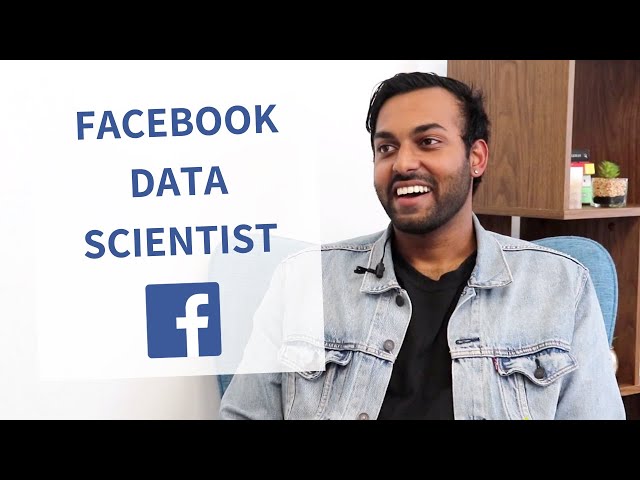 What's it like to work as a data scientist at Facebook?
A Facebook data scientist's day-to-day is largely determined by the product teams they're on. While all of Facebook's data scientists are skilled in SQL, Python, data processing, experiment design, and developing data-driven hypotheses, they each apply their skills to different areas of the business.
For example, Jaime Torres holds the title of Data Scientist at Facebook, but his work is specific to business intelligence, with a focus on helping small businesses use and evangelize the use of Facebook and its tools. Where his colleagues might use their data science skills to study user behaviors on Facebook's news feed or improve facial recognition for photo-tagging, Torres has built models that help Facebook identify small businesses who are likely to be advocates for the platform.
"There are features in the model that we can select that tell us whether someone will be a good advocate," Torres said. "It takes a giant sales funnel and makes it more efficient."
In addition to spending much of his time working independently, Torres said there are also regular planning meetings to set team goals and expectations and to check in on project progress.
Springboard can help you get hired as a data scientist at Facebook
Torres credits Springboard with equipping him with foundational data science skills that he uses every day in his role at Facebook.
"When you start doing the Springboard curriculum, you go through 'What is data?', Python, data structures, and they're not exactly the sexiest things in the world," Torres said. "Everyone is probably in a rush to jump into hot topics like AI and whatnot. But, in actuality, I do a lot of SQL querying and cleaning up data—all the foundational stuff. So, it's very important to get that foundation down."The projects he completed as a Springboard student also helped prepare him for the work of a Facebook data scientist—the model he built to query Facebook's small business databases, for example, is similar to a machine learning model he built as a student.
"I enjoyed doing Springboard because I was learning new things and acquiring new skills I could immediately apply," Torres said.