Over 30% of the American workforce was freelance amid the pandemic. While some of this was driven by the job losses during the initial days, much of it came from experienced professionals resigning from full-time positions to go freelance. This trend that's being called the great resignation is becoming increasingly common in the tech industry.
On the other hand, businesses are much more willing than ever before to hire freelancers. Over 70% of hiring managers say they are planning to increase their use of freelancers over the next six months. This has led to rapid growth in platforms like Upwork, Fiverr, etc., so much so that LinkedIn wants a piece of the pie.
As a high-technology industry with a significant talent gap, data science is embracing freelancers wholeheartedly. In this blog post, we discuss what opportunities there are, how you can find them, and what you need to do to become a freelance data scientist.
Is It Easy To Become a Freelance Data Scientist?
Yes, but with considerations. There is a huge supply gap in data science and thousands of opportunities are available. So, a qualified freelance data scientist is likely to have multiple options to choose from. Given that freelance data science gigs are typically for professionals with at least 2-3 years of experience, you can also demonstrate your value and command high pay.
On the other hand, being a freelancer is like running a small business. You will be your own boss, yes, but you will also be your own salesperson, project manager, marketer, accountant, admin, etc. This brings with it additional work and more demand on your time.
However, most freelancers figure out the balance between the data science and administrative aspects of their career soon. With experience, it becomes easy to be a successful freelancer in data science.
Become a Data Scientist. Land a Job or Your Money Back.
Build job-ready skills with 28 mini-projects, three capstones, and an advanced specialization project. Work 1:1 with an industry mentor. Land a job — or your money back.
What Are the Pros of Becoming a Freelance Data Scientist?
Across multiple dimensions, there are several reasons for you to consider becoming a freelance data scientist. Let's look at them one by one.
Time Flexibility
As a freelancer, you are not restricted to the 9-5 schedule. You can choose when you want to work during the day and throughout the year. You can block off large chunks of the year to pursue other ambitions, take breaks, travel, or whatever else you're excited about.
Income Flexibility
Freelancers decide their rates. For instance, you might only have 2 years of full-time work experience but have been working on data science projects for much longer than that. As a freelancer, you can name your price based on the value you bring, without the constraints of traditional payscales that go by your years of experience.
Location Independence
As a freelance data scientist, you can work from anywhere. Some choose idyllic locations in south Asia. But even if you don't go that far, you can work from cafes, friends' houses, holiday homes, co-working spaces, or wherever else you get the inspiration. Creating work around your lifestyle and not being confined to a specific geographic location is what makes freelancing all the more exciting!
Career Growth
A freelancer's career growth is often non-linear. You can take up varied projects, accumulate wide-ranging experience, gaining skills more rapidly than a single full-time job can offer. You can become a generalist or a super-specialist—having complete control of your career trajectory.
What Are the Cons of Working as a Freelance Data Scientist?
Freelancing can be exciting. But remember that it is not just a new way to do work, but a completely different lifestyle. Here's what you need to carefully consider before jumping to freelance.
Unstable Income
While your pay is flexible, it is also unstable. As a freelancer, it is your responsibility to look for new clients/projects. Without an ongoing sales effort, you might find yourself unemployed quickly. Moreover, you will need to negotiate your pay with every new client, making it an effort to retain your rates.
Complicated Taxes
Being a freelancer is just like being a small business owner, so self-employment taxes apply. You can claim expenses, but that means you must make an additional effort into maintaining bills, separating business and personal expenses, etc. Also, as a freelancer, you might have to pay taxes on a quarterly basis, instead of yearly.
No Employee Benefits
Your clients are under no obligation to provide you with any benefits. So, you need to make your own arrangements for vacation pay, 401K, health insurance, etc. Whereas a full-time data scientist employee is in much safer place when it comes to employee benefit. You might also need a backup plan for when you are sick or during personal emergencies.
Limited Interactions
Some say that freelancing is lonely. Clients will have limited interactions, almost always sticking to business alone. Without colleagues and teams to collaborate with, you might feel isolated. And this is known to lead to stress, anxiety, and demotivation.
How To Become a Freelance Data Scientist
Complete a Course

Build an Online Presence

Pick a Niche

Refine Your Skills

Set Expectations

Set Your Rates

Find Freelance Data Scientist Jobs

Collect Testimonials and Referrals
While freelancing is a promising career path, it is not perfect. Before making the jump, carefully consider its pros and cons. Evaluate your personal characteristics like risk appetite, financial acumen, need for social interaction, etc. to identify the struggles you might have and build support systems for them. For instance, you can get the help of a tax consultant to take care of compliance. You can deliberately build your social circles to compensate for the lack of interaction at work. Be deliberate about your unique needs and situations.
If you've decided to take the plunge, here's how to become a freelance data scientist.
1. Complete a Course
The best way to get started in freelance to complete a data science bootcamp. You'll gain practical insights, network with established engineers, and even have the option of taking on a part-time or full-time job in the industry.
2.Build an Online Presence
To be hired as a freelance data scientist, you need to be visible. So, the first and most crucial step is to build a strong online presence. Typically, freelancers create their own websites to do this. But it is helpful to have profiles on networks like Twitter, LinkedIn, GitHub, etc.
Present your skills and experience clearly, including the programming languages you know, tools you're comfortable with, etc.

Have a portfolio section to demonstrate your skills and experience

You can also write case studies to demonstrate your approach to problem-solving, working style, etc.

If you have a roster of recognizable companies as clients, include their names (with their permission)

Update your LinkedIn profile on a regular basis
3. Pick a Niche
When organizations look for freelance data scientists, they want them to hit the ground running immediately. This means that organizations expect freelancers to come with an understanding of the industry, market, and business landscape in addition to data science skills. For instance, if a financial services company is looking for a freelance data scientist, they would need you to have some experience in banking, stockbroking, etc.
So, pick a niche. This needn't be just an industry. This could also be a specific business process like fraud detection or compliance, or a use case like a recommendation engine. With experience, you can also create your own proprietary processes and systems to ensure high quality. This way, you can differentiate yourself and command better pay.
Get To Know Other Data Science Students
Isabel Van Zijl
Lead Data Analyst at Kinship
Jasmine Kyung
Senior Operations Engineer at Raytheon Technologies
Corey Wade
Founder And Director at Berkeley Coding Academy
4. Refine Your Skills
If you're thinking about starting a career as a freelance data scientist, you probably already have the basic skills the job needs. So, begin to refine them. Take your skills up a notch, becoming an expert in what you do. Apart from statistical knowledge, programming skills, data science tools, and visualization skills, develop interpersonal skills as well in sales, presentation, negotiation, project management, communication, etc.
5. Set Expectations
One of the biggest reasons freelancers get frustrated is scope creep—where the project's requirements change or increase typically resulting from misunderstanding or unclear communication. So, before you take on any project, set clear expectations about what you will do, what that will look like, what it will achieve, etc. Here are a few things to include:
Scope of work

Timelines of delivery

Inclusions and exclusions

Post-delivery support

Your availability

Preferred means of communication

Expected response time

Necessary reviews and sign-offs

Payment schedule
6. Set Your Rates
Typically in the US, freelancers charge by the hour. This could be anywhere between $45-200 per hour depending on your educational qualifications, experience, niche, skills, demand, availability, etc. You can also charge per project. Depending on the scope of work, the time you'll spend, and the value you'll generate, you can charge a lump sum. Before deciding on the rates, consider two things.
Your Needs and Expectations
How much money do you need to live the lifestyle that you want? The answer to this question will help you decide how much work you need to take on and how much you should charge.
Market Rates
What are organizations willing to pay someone with your experience and skills? The answer to this question will help you position yourself competitively in the market. You can find out market rates from websites like Glassdoor, which collects data from the freelance data scientist community itself. You can also look at websites like UpWork, Freelancer, Fiverr, etc. to see what is being offered to other freelancers.
7. Find Freelance Data Scientist Jobs
With all that done, you're ready to take on real work. Freelancers find work through one of the three following channels.
Personal Networks
Whether it's their past colleagues, collegemates, or their personal networks, freelancers get their first break typically from people they already know. So, once you've decided to go freelance, make an effort to let your friends and colleagues know. Request them to refer you if they come across a suitable project. Write about topics that you feel strongly about—this could be on your own blog, Medium, etc. Participate in data science events and conferences.
Job Boards
Just like full-time work, there are job boards for freelance data scientist jobs as well. Portals like LinkedIn also have freelance opportunities listed. There are also freelance-specific platforms like Upwork, freelancer, Toptal, Fiverr, etc., where clients advertise their needs. Startup communities like Cofounders Lab and AngelList advertise openings in startups. Tech communities like the Data Science Stack Exchange or Lemon.io can also offer the support and interactions you need.
Social Media
The other channel you must not skip is social media. There are dozens of posts every day on channels like Twitter, LinkedIn, etc. where organizations seek freelance data scientists. Even if you don't directly follow the organization/manager in question, you can be referred by those who do. So, make sure you're present in all relevant social media, following the right people, and active in your field of work.
8. Collect Testimonials and Referrals
There is nothing that establishes you as a credible freelance data scientist as an endorsement or testimonial from a client can. At the end of every project, schedule a review meeting and collect feedback. Request them for testimonials that you can use on your website, presentations, etc.
How To Be Successful as a Freelance Data Scientist
Success as a freelance data scientist depends heavily on your ability to execute complex projects seamlessly. This needs a laser-sharp approach to your work as well as overall professionalism in your delivery. To achieve that,
Only Pursue Projects That Match Your Skills
It is important for a freelancer's credibility to deliver what they've promised. While it can be tempting to take on new challenges, make sure you can deliver them without a glitch. If you're relying on another freelancer or a partner to complete the project, be realistic and transparent about it.
Set Goals and Expectations
Make sure that your client expects to receive what you are going to deliver. It's not uncommon for clients and freelancers to have a completely different understanding of the project—make sure you're both on the same page. Once the project has begun, communicate regularly about the progress you're making. It's better to be proactive than wait for the follow-up.
Build a Routine
One of the biggest complaints among freelancers is that they get so engrossed in their work that they lose track of time. Without a conscious effort, you might end up spending too much time on work unnecessarily. To avoid that:
Build a routine

Set a start and stop time for your workday

Block off your weekends for personal activities

Include adequate breaks and exercise time

Schedule yearly vacation and inform clients in advance
Invest in an Office
It is tempting to lie on the couch and do all the work, but that will soon become unsustainable. Get yourself a comfortable table and chair to avoid back pain. If you need wide-screen monitors, a keyboard and mouse, etc. for your work, invest in them. If possible, separate your workspace from your living space. This will stop work from overtaking all areas of your life.
Freelance Data Scientist Success Stories
If you still feel on the fence, here are the stories of a few freelance data scientists for inspiration.
Freelancing To Stay Creative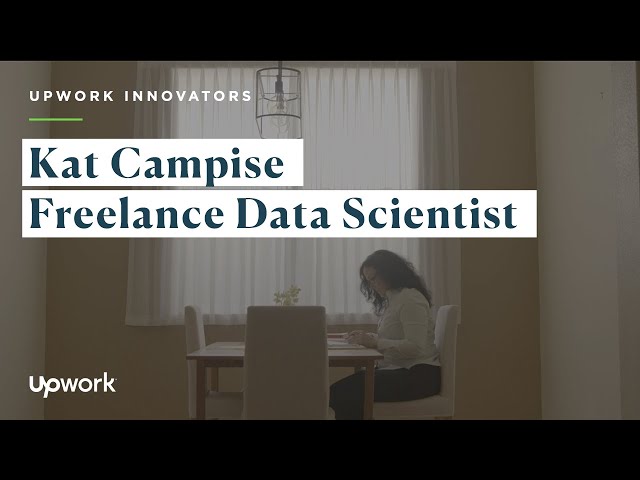 "When you're internal and in one job, you naturally get a group-think happening. Then, it becomes difficult to think outside the box and solve problems. I like to look outside-in because I can place myself in multiple perspectives and find the right solution," says Kat Campise, a freelance data scientist on UpWork. In this video, she discusses her journey as a freelancer and what she counts as success.
Setting Yourself Up for Freelance Success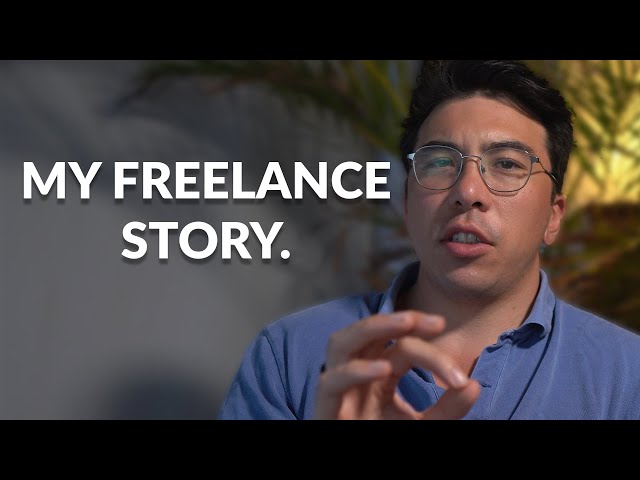 In his video, Ken Jee shares how he landed his first client as a freelancer through the old-fashioned method of networking. His advice to freelancers is to focus on building a good portfolio, networking, specializing, problem-solving, and being diligent with delivery and follow-ups.
Seeking and Leveraging Mentorship
Springboard Alum Haotian Wu believes that mentorship is enriching to one's learning experience. "My mentor's answers were incredibly detailed and gave me the mathematical background on topics that I found very helpful. As someone with a more technical background, my mentor calls ended up being more like discussions," he says.
Kickstart Your Data Science Career Today
Whether you're looking to be a freelancer or not, to kickstart a data science career, you need strong foundational skills and hands-on experience. Springboard's Data Science Bootcamp offers you all this and more.
This program's 500+ hour curriculum covers the gamut of skills you need

It includes two

capstone projects

, in addition to multiple smaller projects to get you comfortable working with data science

Your mentor will guide you through every step of the way

Your career coaches will ensure a smooth transition to a job